---
Christmas cake??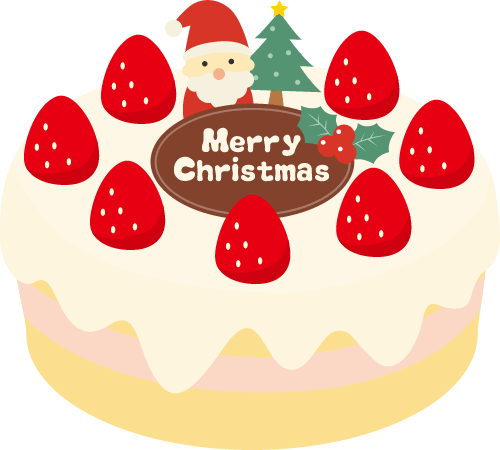 As one who grew up in the US, I had many culture shocks coming to Japan, and Christmas was especially a big surprise. In Japan, everyone wants to spend the Christmas Eve with their boyfriend or girlfriend rather than with their family, there is a long line in front of KFC, and everyone's fervently trying to get a cake even though it's not their birthday..
Christmas was originally a holiday to celebrate the birth of Jesus Christ, so it is a religious day. Coca Cola had built up the image of Santa Clause from the 1920's to the 1960's through their advertisement, so Santa Clause became synonymous with Christmas in the US. Japan was not a Christian country, so when Japan started to celebrate Christmas as well, the image of Santa Clause was stronger than that of Jesus Christ.
In US, people eat turkey during Christmas time. In Japan it is difficult to find turkeys, so that is the reason why fried chicken seems to be popular instead. Also, the fact that the brand color of KFC is red and white(similar to Coca Cola Santa Clause) helps boost the popularity.
---
Standard American Christmas
Let's introduce several American Christmas food. Maybe some of these you already know, and some of them may be new to you :
---
Fruit cake:
Cake with small fruit pieces, which is a German cake/bread called Stollen. It is a standard food in the US for Christmas, but also many people don't like it(Most likely because we buy them at the local super market)

Eggnog:
Drink only for Christmas. A very sweet, high-calorie, liquid pudding. Some love it, but some hate it

Candy cane:
Peppermint-flavored candy that we hang from the Christmas trees. They break very easily, and after Christmas we end up with a mountain of them, and we have to try very hard to eat them

Gingerbread man:
Cookies based on the English story of the 1800's. These are also not eaten very much outside of Christmas

Ham:
These are not the typical ham we buy at the super market, but are large hams cooked in ovens. Very juicy and good.

Turkey:
Christmas is a another day besides Thanksgiving where turkeys are consumed the most. They are stuffed with stuffing, made from bread, and cooked in ovens. Each household have their own special way to cook their turkeys

Cranberry sauce:
Always served with turkey. Do we eat it with turkey? Or just by itself? Why do we even eat cranberry sauce? A very mysterious food

Mashed potato:
Since rice is not a staple food, Potato is eaten alot in the US. Very standard menu is mashed potato, made by mashing steamed potato. Butter, garlic, and herbs are sometimes mixed. Usually served together with gravy sauce
---
Summary
A country's culture is typically evident in their food. Japan has an interesting food culture for Christmas, but so does US! Merry Christmas!
---
#Christmas #Food #US #Japan #Differences